MEETINGS and EVENTS
Committee of the
Whole Meeting

September 9th @ 5 PM
Council Meeting

September 23rd @ 7 PM
Committee of the
Whole Meeting

October 14th @ 5 PM
Council Meeting

October 28th @ 7 PM
Open Office Hour
Every Thursday
9:30 AM - 10:30 AM
---
Somerset Borough
NEWS
By: Michele A. Enos
Borough Manager
---
Act 32 - Local Earned
Income Tax Reform
Local Earned
Income Tax Information

Somerset County Act 32
PSD Codes
---
ACT 44 Disclosure
Statements

Click to View
ACT 13


Unconventional Gas Well Fund Report 2012
Water Notification System

ADVERTISEMENT FOR BIDS
Sealed proposals will be received by the Borough of Somerset for the following project:
Mary S. Biesecker Public Library - LU/LA Elevator Project
Separate Prime Bids are invited for the following work:
General Construction
Electrical Construction
A MANDATORY PRE-BID CONFERENCE will be held at 10:00 a.m. Tuesday September 3, 2019 at the Mary S. Biesecker Public Library located at 230 South Rosina Ave., Somerset, PA 15501. 
All bids must be received on or before 1:00 p.m. on Friday September 20, 2019 at which time the sealed bids will be opened and read aloud.
Bid drawings and specifications can be obtained at the Borough Manager's Office, 347 West Union Street, Somerset PA 15501, or by phoning (814) 443-2661. There is a charge of $75.00 for printed copies and $25.00 for electronic copies.
Each proposal shall be accompanied by either a certified check or surety company bid bond in the amount of not less than ten (10%) of the contract amount. The same shall be made payable unto the Borough of Somerset. No bids shall be withdrawn for a period of sixty (60) days after the time set for the opening of bids.
The project is funded in part by a PA State Grant.  The minimum wage rates for each craft or classification of all workmen needed to perform this contract during the anticipated term hereof shall be governed by State Prevailing Wage Rates which are included in the Project Manual.
The Borough of Somerset reserves the right to reject any or all bids or to waive any informalities in the bidding process.
Michele A. Enos
Borough Manager



OPENS FOR THE SUMMER
Beginning July 8th through August 9th,
the playground pool will be staffed on
Mondays, Fridays and Saturdays
from 9:00 am to 5:00 p.m.

Somerset Borough Annual Water Quality Report
PWSID# 4560042
We are pleased to present to you our 2018 Annual Drinking Water Quality Report. This report is designed to inform you about the quality water and services we deliver to you every day. Our constant goal is to provide you with a safe and dependable supply of drinking water. We want you to understand the efforts we make to continually improve the water treatment process and protect our water resources. We are committed to ensuring the quality of your water.
Este informe contiene información muy importante sobre su agua potable. Tradúzcalo ó hable con alguien que lo entienda bien. (This report contains important information about your drinking water. Translate it, or speak to someone who understands it.)
Posted 4-26-19
BOROUGH OF SOMERSET BOARDS AND COMMISSIONS
SOMERSET BOROUGH COUNCIL
ACCEPTS
" LETTERS OF INTEREST "
The Council of the Borough of Somerset is accepting "letters of interest" from Borough residents interested in serving on its various Boards/Commissions. Presently, Council is looking to fill an unexpired term on its Municipal Authority. A full term is five (5) years.  
Additionally, there are two vacancies in the Borough's Uniform Construction Code Appeals Board. A full term is three (3) years.
The duties and responsibilities can be obtained from the Borough Manager's Office. by calling 814-443-2661; by clicking here , or by stopping at the Somerset Borough Municipal Building at 347 West Union Street.
If you are interested in serving on another Board or Commission of the Borough of Somerset, please send a "letter of interest" noting which Board or Commission you would prefer.  The list of Boards and Commissions include: 
Somerset Borough Zoning Hearing Board
Somerset Borough Planning Commission
Somerset Borough Civil Service Commission
Somerset Borough Municipal Authority
Somerset Borough Codes Appeals Board
Somerset Borough Vacancy Board
Mary S. Biesecker Public Library Board
Letters are to be sent to:
Michele A. Enos
Borough Manager
P.O. Box 71
347 West Union Street
Somerset, PA 15501
Manage your Water/Sewer Account Online
Sign up for your mySomersetBoro account and enjoy account access at your fingertips. All you need is some basic information from your water/sewer bill and a valid email address to get started.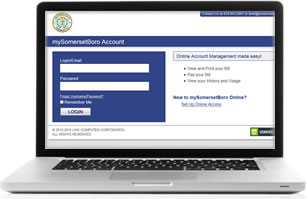 With your mySomersetBoro account you can view your bills Online, view your usage and payment history and make Online payments from your checking account or by credit card. Don't want a paper bill, go completely paperless and sign up for ebills.
Types of payments accepted

Bank Account (ACH)
Mastercard
Visa
American Express
Discover

Fees

The Borough of Somerset does not charge a fee for Bank Account (ACH) payments.
A third-party fee will apply to all electronic credit card payments.

Effective October 1, 2016 Fee for credit cards is 2.65% or $3.00 minimum charge.
Click the link to sign up for your mySomersetBoro account today! https://somerset.authoritypay.com/
PROPERTY MAINTENANCE AND CODE ENFORCEMENT
As a reminder to Somerset Borough residents, the Borough's
Code Enforcement Department will continue to enforce the
Property Maintenance Codes and the High Grass Ordinance. Common causes for violations being issued are:
grass exceeding 6" in height
garbage around the property
structural deficiencies
unsecured vacant structures with broken
windows / open doors etc.
WHEN ARE BUILDING PERMITS REQUIRED?
With the arrival of warmer weather, here are some tips for those planning construction projects: Permits are required:
• To construct, enlarge, alter, or demolish a structure.
• When sanitary facilities (water / sewer) are added.
• When a proposed change occurs in the use of a building.
AS OF JANUARY 1, 2019
All permits regulated by the UCC are now handled by Pennsylvania Municipal Code Alliance.

Other Permits that are required by the Borough of Somerset:

Borough of Somerset Building Inspections
Po Box 71 347
West Union Street
Somerset, PA 15501-0071
Fax: (814) 445-3931
Phone: (814) 445-5595.



Driveway
Sidewalk
Fence
Sign
Shade Tree
Water/Sewer Taps
A comprehensive listing of activities requiring permits is available at our Inspections Department; by calling Building Inspector Tom Jury at 445-5595; and on our web site www.somersetborough.com.
NO SIGNS ALLOWED ON TREES, POLES
Somerset Borough reminds residents not to place signs on trees or utility poles. The Somerset Borough Zoning Ordinance prohibits signs from being attached to trees or utility poles. Recently there have been incidents of yard sale signs being placed on trees, utility and sign poles, as well as traffic signal poles.
This is a violation of Section 183-34 of the Somerset Borough Zoning Ordinance, and is subject to a fine of up to $250 per day for each violation.
Public Comment Policy
Adopted by the Council of the Borough of Somerset: January 24, 2011

Council The Pennsylvania Sunshine Act (65 Pa. C.S. 701, et seq.) provides that the Board or Council of a political subdivision shall provide a reasonable opportunity at each advertised regular meeting and advertised special meeting for residents of the political subdivision or for taxpayers of the political subdivision or to comment on matters of concern, official action or deliberation which are or may be before the Board or Council prior to taking official action. (710.1).
To assure compliance with the Act, to inform members of the public who may wish to make comment, and to provide for predictable and orderly implementation of the public comment period, Somerset Borough Council has adopted this Public Comment Policy. READ MORE >