Somerset Borough Council Minutes
Council Meeting Minutes will be posted after they are approved at the following meeting.
---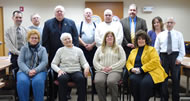 Meet the Somerset Borough Council Members and Staff
---
Public Comment Policy
The Pennsylvania Sunshine Act (65 Pa. C.S. 701, et seq.) provides that the Board or Council of a political subdivision shall provide a reasonable opportunity at each advertised regular meeting and advertised special meeting for residents of the political subdivision or for taxpayers of the political subdivision or to comment on matters of concern, official action or deliberation which are or may be before the Board or Council prior to taking official action. (710.1).
To assure compliance with the Act, to inform members of the public who may wish to make comment, and to provide for predictable and orderly implementation of the public comment period, Somerset Borough Council has adopted this Public Comment Policy.
---
2017Council Meetings
7:00 pm at the
Municipal Building

January 23rd
February 27th
March 27th
April 24th
May 22nd
June 26th
July 24th
August 28th
September
October
November
December
*Council has traditionally rescheduled its November and December meetings based on the timing for budget adoption and the Thanksgiving and Christmas holidays.   The rescheduling will be done closer to these dates.
Borough of Somerset
Committee of the Whole Meeting
May 8th, 2017 5:00 p.m.

         Meeting was called to order by President Ruby Miller, opening with recitation of the Pledge of Allegiance to the Flag.
Roll Call:
        Council Members present:  Ruby Miller; Judy Pyle; Pam Ream; Steve Shaulis; and Gary Thomas.
Council Members not present:  Fred Rosemeyer; and Sue Opp. Mayor Scott Walker not present.  

Also present were the following:  Borough Manager, Michele Enos; Director of Finance, Brett Peters; Chief of Police, Randy Cox; Solicitor, James Cascio; and Consulting Engineer, Jake Bolby.
Announcements:
  (a) None
Approval of Minutes of Previous Meeting:
(a) Committee of the Whole – Minutes from the April 10th, 2017 Committee of the Whole Meeting.
Motion 
Mr. Shaulis moved, Mrs. Ream seconded to approve the April 10th, 2017 Somerset Borough Committee of the Whole Meeting Minutes.
                                                                             Motion Unanimously Carried
                                                                                                                                                                General Public Comments:
  (a) None Registered.
Policy Agenda:
Old Business:
  (a) None
New Business:
  (a) Request Form Submitted by Council Member Thomas:
       1. Street Paving Schedule.

Ms. Enos mentioned that they prepared a list of streets being considered for paving this year.  Ms. Enos mentioned that what is done next, is to pick the streets we want to have our Municipal Services Representative from PennDOT come in to go over.  He measures the streets and from there, we get a price estimate.  Ms. Enos mentioned that we will probably have to scale that back a bit since we have $100,000 that's budgeted for paving this year.    

      2. Painting of Crosswalks, Turning Lanes, and Parking Spaces by Memorial Day.

Ms. Enos mentioned that we will definitely do our best in getting all of this done before Memorial Day. She stated that we have some projects that we are waiting on from PennDOT.  PennDOT is doing a Street Paving Project on 601.  PennDOT is also doing another one on 281 that's going to affect some of those crosswalks and turning lane areas.  So we're going to wait until their paving project is done before we go and paint those.  But it's definitely on the schedule for Public Works. We have a couple things going with fire hydrant repairs that we've prioritized.  Also, there are some storm water lines that we need to install. West Garrett Street is also on the list. But we will try our best to get it done by Memorial Day.

      3. Christmas Decorations.

Ms. Enos mentioned that they talked about scheduling a meeting with Regina Coughenour from Somerset Inc., and some others who have expressed interest.  Some of our Council Members are also interested in attending the meeting. Tentatively, the meeting is scheduled for next Wednesday at 6:00 pm here at the Borough Building.  Ms. Enos mentioned that she'll put a reminder out in Council packets, and confirm that date and time for everyone. 

      4. Trim back trees and brush at stop signs.

 Ms. Enos mentioned that we currently have this on our projects list as well.  She stated that it has taken a lower priority because of the other projects. 


     5. Fix fire hydrants that are broken and finish painting them.

Ms. Enos stated that Todd Suder, our Meter Reader, is actually painting the fire hydrant caps based on the flows. She stated that we did all the pressure testing and flow testing on those hydrants.  So Mr. Suder is painting the hydrants, based on those flows, by color code. We do have fire hydrants that are still broken that need to be fixed and painted.  Ms. Enos mentioned that we worked on 2 hydrants in the last 2 weeks, and are currently working on a third.
(b) Request Form Submitted by Manager Enos:
     1. Building Permit Fees – Discussion on updating our fee rate structure.

 Ms. Enos explained that the last time we adjusted any Building Permit fees was in 2007. A list has been sent to Council of what our current rate structure is and what we are proposing.  Some of the Building Permit fees have gone down, and some have been adjusted higher to reflect our actual costs. There are some projects that require inspections that require two and three inspections, and some that require only one.  So we adjusted accordingly. We also included a comparison of what is being charged now, and what they would pay if this new fee schedule were to be adopted by Council. 

     2. CDBG/Oak Street Project – Discussion on obtaining a right-of-way easement to  
     replace a crushed storm line.

Ms. Enos explained that this is involving Oak Street area, where their storm line construction is currently taking place. This is a Redevelopment Authority Administered Project using our CDBG funds.  Ms. Enos stated that they met today with the property owner, Mr. Jim Onstead. The Redevelopment Authority has to receive a "right-of-entry" from the property owner, which in this case, is Mr. Jim Onstead.  He had no issues with signing the "right-of-entry".  But what will take place in the future, after construction, is that we'll be entering into a permanent easement.  There was a crushed line that was underneath the property that Mr. Onstead owns.  His old storm line came at an angle and tied into the State System on Plank Road.  We found that the line was crushed after a video camera was placed in the line.  So what was decided upon, was to approach Mr. Onstead, come down the alley way in between those two properties, and do a straight line right into the State System.  Ms. Enos stated that this will require, on our part in the future, once the construction project is done, to enter there with a permanent right-of-way easement.  So if, in the future, there is anything we need to maintain on that line, we'll have that right-of-way to do it.  Mr. Onstead has been agreeable, at least in concept, until the details and the engineering map is drawn up.  The agreement has been done by our Solicitor. 

    3. Turnpike Commission – Discussion on the utility relocation at N. Center Ave. in
    conjunction with the Turnpike Bridge Replacement Project. 

Ms. Enos explained that because of the Turnpike Bridge going in, our utilities are in the Turnpike's road, so we have to move them.  Ms. Enos stated that this is standard when PennDOT, or the Turnpike, does construction projects like this.  So unfortunately, we will have a cost involved in moving those utility lines.  The total cost on that project, to move the utilities, is estimated to be $10,916.37, of which 25% will be the Borough's cost at $2,729.09.  This will come out of our Water Fund.    

    4. Sewer Plant – Discussion on a change order to the Trickling Filter Project.


Council approved the Trickling Filter Project that was awarded to Hickes Contracting for our Sewer Treatment Plant.  When the contractors came out in the spring and did an inspection of the facility they noticed that the distributor arms on the trickling filters are in a lot worse shape than what they originally had thought.  Ms. Enos stated that she and Mr. Bolby went out and looked at them as well.  Mr. Bolby concurred with the contractor that the distributor arms need to be replaced.  So while they are there, while they're mobilized, while the contract is going on, we'll be looking at proposing a Change Order for Council's consideration to replace those distributor arms.  The amount of that change order is going to be an additional $46,000.00.  The original contract was $129,000.00.   That would bring the contract to a total of $175,000.00.  We are budgeting a surplus in the Sewer Operating Fund this year of $75,000.00.  Ms. Enos and Mr. Peters met to discuss this, as well, and concluded that we do have the funds to perform this project.  The change order will be considered at the next Council Meeting.

   5. Water Plant – Discussion on replacement of our water plant truck.

Mr. Enos explained that our Water Plant Superintendent brought to her attention, a few weeks ago, that our water plant pick-up truck, with the lift gate, that we use to take chemicals from our Main Plant to our other Plants, is not going to pass inspection.  Ms. Enos stated that she asked him, since it was not on his Capital Budget Request, to provide a list of everything that will not pass for inspection on the truck.  He provided pictures of the frame, and information on the truck's condition.  Ms. Enos also asked him to get an independent cost estimate on what it would be to actually fix the truck that we currently have.  That cost estimate came in at $17,000.00 to repair the truck. She mentioned that she also asked the Superintendent to get a cost estimate for purchasing a new truck with a lift gate.  He got a cost estimate that totaled $38,963.00.  Ms. Enos mentioned that Tri-Star Ford is under the Co-Stars Government Co-Op Program.  Ms. Enos also asked the Superintendent to look at his Capital Projects Budget that had been approved by Council, and give his recommendation to what he wishes to move to make up that difference to next year, so that we stay within the budget.  Ms. Enos mentioned that he had done that.  So there are some projects we can carry over to next year and stay within the budget.  One of the projects he requested to move was the project that created the wetness on the floor.  Ms. Enos stated that what she asked Mr. Bolby to do was give her a list of what we can do, in the meantime, to eliminate this situation so we're not creating any type of hazard to any employee.  Mr. Bolby has provided that list.  Ms. Enos assured Council that we will take our Engineering Report, and will utilize that, to make sure that all employees are safe.
(c) Request from Chief Cox:
     1. Fire Alarm Systems - Fire alarm systems for the Public Safety Building and
     Borough Building.

Chief Cox brought to the attention of Council that the Borough has two buildings, the Borough Building and the Public Safety Building that are alarmed; the Borough Building has a fire alarm system which is not monitored and the Public Safety Building has a fire alarm system as well as a duress alarm system in the police department.  The two alarms in the Public Safety Building have always been monitored through Somerset County 911.  Each of these systems utilized an automatic dialer that would transmit a trouble or alarm report to a receiver in the 911 Dispatch Center.  In 2008, the County decided to exit the alarm monitoring business, but as a courtesy to the police and fire departments continued to monitor the two alarm systems in the Public Safety Building.  However, at the beginning of the current year the County began transitioning to a new CAD system and the alarm receiver was no longer used.  As a result, the alarm systems in the Public Safety Building have not been monitored since January 2017.  Therefore, while each of the three alarm systems are functioning, none of them are monitored and this creates a great risk, especially with the non-monitored fire alarm systems.  Chief Cox noted that the new emergency radio system contains a duress alarm and when an officer is in distress he/she only need push a button on his/her radio to notify dispatch.  This feature makes the Public Safety Building duress alarm system redundant. 

Chief Cox questioned the wisdom or logic of having unmonitored alarm systems and requested a quote from Betway, the current vendor for the fire alarm systems.  Betway would be looking at charging a one-time fee, of approximately $150.00 per system, to program the alarm systems in order that they could be monitored by Betway.  Betway would charge approximately $310.00 per year per system to monitor the systems.

Chief Cox also requested a proposal from MEI, and MEI's programming fee would be about the same as Betway.  However, it would be over $100.00 or less per year per system to monitor than Betway.  Chief Cox's recommendation is to put the duress system on hold, because it's not absolutely necessary as the officers' radios provide this function. However, Chief Cox strongly recommended that the two fire alarm systems both be monitored.  He mentioned that there is much valuable equipment and irreplaceable archives that would be lost in the case of a fire, in both buildings.  Chief Cox mentioned that he wanted this issue on the agenda, so that Council was aware of the history of what they were doing.

     2. Parking Issues – Unnamed alley running parallel to, and between, the 300 blocks
    of W. Fairview and W. Catherine streets.

 Chief Cox mentioned that they are getting complaints from some of the residents of an unnamed alley, that runs two half blocks, from Parsons over to Rosina.  The complaints they are getting are from the half block that is between Orchard and Parsons, between Fairview and Catherine.  Chief Cox stated that he's not sure if this alley has a name, or if it's even a Borough roadway or the Borough's responsibility. The point is, we're getting complaints from some of the residents, and they tend to be the residents who own property.  The other group of residents, are the renters, who are renting places that doesn't have adequate off street parking.  Complaints are also coming in from the Public Works Department, because they are finding it difficult to plow back there.  Chief Cox mentioned that there is one very, very, very old sign that is posted on the north side of the alley that says "No Parking Anytime." The south side of the alley is the right-of-way line that must be right up against the property lines, and structures, on the properties.  He mentioned that if you were to post it "No Parking", there's really no room to park.   Chief Cox's recommendation would be, first, to find out whose roadway it is. He stated that he's not sure if it is even a Borough road, especially since it only runs for two half blocks. There's nothing west of it or east of it, nothing connecting it.   Research needs to be done to see if it is a Borough roadway.
(d) Donation Requests:  None.

(e) Year to Date Financial Report – Provided through the month of April 2017.
Mr. Peters mentioned that he has the year to date Financial Reports for April 2017.  He mentioned that we are 33.33% of the way through the year, or one third. The following Fund's Revenues and Expenditures are based through the month of April 2017:
General Fund:  Revenues – 26.93%    Expenses – 28.82%
Water Revenue Fund:  Revenues – 52.76%    Expenses – 42.93%
Sewer System Operating Fund:  Revenues – 29.88%    Expenses – 23.76%
      Mr. Peters mentioned that Council has the details for all the Borough's funds in front of them, and if anyone had questions concerning the report, he stated to please reach out to him.
(f) Request Form Submitted by Council Member Shaulis:
    1. Emergency Alert System – Do we need to update our Alert System in the Borough for severe thunderstorm warnings or tornado warnings?

Mr. Shaulis stated his concern with updating our alarm system here in the Borough in light of the damage done by the two tornadoes that occurred in the Salisbury Area. He stated, that years ago, we had 3 big yellow thunderbolt sirens that were used for both weather and fire alarms.  He stated that he thinks this is something we should look at if we have available money.  Ms. Enos stated that she can look into seeing what Grant monies are available. She also mentioned that she can look into what other communities are doing to see what their alert system is too.  It was mentioned that the alarm on Harrison Avenue is not operational.  Chief Cox stated that his experience with emergency sirens is, that unless you test them weekly, when they do go off, nobody knows what they are or what's going on.  Chief Cox stated that we should perhaps look at the idea of sending out the One-Call system on the phone.  Ms. Enos stated that we still do that by using the phone.  She stated that it is a requirement through DEP.  She stated that if there's any kind of water notice, or any kind of requirement like that, that we have to set up a web-based program where we can go in, highlight the entire area, or only the areas that are affected. Then it will automatically go to a dialer system where it calls.  We have to take recorded messages as to what is going on, or what the instructions are.  We also have another number we can call for more information and details on it.  Mr. Shaulis asked how long it would take to do a total call in Somerset Borough.  Ms. Enos said it would take "minutes." Ms. Enos mentioned that if something would happen in the evening, it would require us to be in here to set it up to actually get it out.  She mentioned that when you're looking at something like that, it's going to be a little more time consuming.  Mr. Shaulis mentioned that if a tornado warning would come out at 10:00 pm or weekends, it could be a simple siren to warn others. Ms. Enos stated that she would look into this more to get more information.  She also stated, that she will check to see what other communities have, in this regard, and get information to see what works for them.  Then she will send this information out for all of Council to look over.

    2. Water System – I think the Fire Department should be updated every 2 weeks on hydrants that are out of service. 

Mr. Shaulis stated that he thinks the Fire Department should get an email, or something like that, from the Borough advising which hydrants are out of service.  He mentioned that Jerry Lyons did post on the board that 2 hydrants have been repaired now.  Mr. Shaulis stated that there's nothing more frustrating than going to a fire, and when you pull in, you see a black bag over the hydrant.  Ms. Enos stated that she has asked to keep County Control updated on what is bagged.  Ms. Enos mentioned to Mr. Shaulis that if the fire men don't run in and look at the board before they go out on a call, or something new comes in that day, County Control has the list as well.  Mr. Thomas stated that the Fire Department is also looking into getting tablets, and are considering putting all the fire hydrant locations on them. Ms. Enos stated that they are also working with EADS, for next year's budget, to set some funds aside for a Global Information System.  The GIS will be able to map all of our water lines, map all the hydrants, and keep building upon storm waters, catch basins, valves and shut off boxes.  It will also be able to help with more detail. 
(g) Manager's Report – Reports distributed to Council for all departments for the
month of April 2017.
Ms. Enos handed out packets to each Council Member, and stated that she asked the Department Heads, whom she supervises, to supply a report outlining what their normal duties are, what current projects we are working on for the month, and also Planned Projects throughout the course of this year.  She stated that her own report is also included in the handout.  Chief Cox's report is included for the Police Department as well.  Also included is the Water Treatment Plant, Sewer Treatment Plant, Public Works, Inspections Department and Meter Reader Department.  She stated that this is going to be a monthly report.  Ms. Enos stated this will give Council a better idea of what we're doing, what our normal duties are, what kind of projects we're working on in each facility, and what we have planned for the year.  She stated that, in this way, Council knows what's coming up, they know what we're working on and have a better general idea of what goes on in those facilities.  Ms. Enos mentioned that if Council had any questions when they are going through it, please feel free to call her at any time, or they can bring it up at the next Committee of the Whole Meeting. 
(h) President's Report – Given by Mrs. Miller.
Mrs. Miller reminded to everyone to vote next Tuesday. 
(i) Somerset Inc. Report - Given by Judy Pyle.
Mrs. Pyle mentioned that at Somerset Inc.'s upcoming Annual Membership Meeting, they are going to be updating the bylaws.  Mrs. Pyle mentioned that Steve sent her a copy of what he's changing, and there are some things in there that really go "back and forth" between them and the Borough that are changing.  Some of those things that he's looking to change is where it mentions, "We should have 3 people on the board."  Ms. Enos mentioned that she could come to the meeting, when asked by Mrs. Pyle.  Mrs. Pyle mentioned that the Borough and Somerset Inc. have such a nice reciprocal thing going, she would like to see that continue.  Ms. Enos agreed. 
Mrs. Pyle also commented on how nice the intersection looks. 
Also, at this time, Chief Cox mentioned that a number of Somerset Inc.'s merchants were complaining to Regina about a gentlemen named Shawn Brown, a homeless man, who is living "all over the place."  One of the places he's been habitating in is in Trinity Park.  Chief Cox stated that he recommended, to Regina, it be brought up to the Board.  He stated that they can remove him from the Park if they have a request from the owners of the Park to do so.  Chief Cox stated that this morning, they had an altercation with Mr. Brown in Trinity Park.  He stated that if Regina Coughenour is looking for something to base the ban on him being there, this morning's activity would certainly do it. Mr. Brown ended up being arrested, and he's in jail now for at least a week.  He's also been plugging into the electrical feed in Trinity Park.  Chief Cox mentioned that Regina seems to be "a little on the fence" to what she wants to do, but if she's looking for specific grounds to prohibit his presence from the Park, Mr. Brown gave it to her this morning.    
(j) Somerset Volunteer Fire Dept. Report – Given by Gary Thomas.
Mr. Thomas mentioned that ISO, Insurance Services Organization, was over at the Fire Department, this evening, going over the fire equipment. 
Mr. Thomas, also mentioned, that the Fire Department has sold two pieces of equipment to Fire Departments in the area.  They also purchased a 2017 Dodge Pickup crew cab that will be put into service in the next couple weeks.
(k) Engineer's Report – Given by Tom Reilly or Jake Bolby.
Mr. Bolby stated that tomorrow will be one of the bigger days up at the Tank Project.  It will be the "pour day" for the base slab.  They're going to be running between 40 and 50 concrete trucks throughout the day.  So they are going to have traffic control and some close-down areas up there.  Mr. Bolby mentioned that you'll see a big pumper truck, that will sit there, that will be fed by the concrete trucks that are going to come in.    
Executive Session – None requested.
Adjournment   
Motion
            Mr. Thomas moved to adjourn, motion seconded by Mr. Shaulis.                                                                                                                                   
Motion Unanimously Carried.
6:12 p.m.                                                                                                                                                            
________________________________
Michele A. Enos, Borough Secretary